Kaltxì nìmun, ma eylan,
Tse, EuroAvatar 2013 is well behind us. And what a great meet-up it was! John and I were so happy to be able to get to know and spend time with members of the European Avatar community and lì'fyaolo'. The language classes, the radio play, the singing, the food, the wonderful birthday party for John, the great organization (irayo nìtxan, ma Passi!)—everything was fantastic.
And as icing on the cake, the Berlin meet-up was followed just over a week later by an unexpected but delightful mini-meet-up with French fans in Paris!
I've posted some pictures below, but first, here are a few vocabulary items plus a point of grammatical clarification that were prompted by the Berlin meet-up:
okup (n., O.kup) 'milk'
Sa'nok prrnenur yomtìng fa okup sneyä.Tìng mikyun
'A mother feeds an infant with her milk.'
loi (n., LO.i) 'egg'
Rolun ayoel tsrulmì hì'ia pxeloit ateyr.Tìng mikyun
'We found three little white eggs in the nest.'
tsyeym (n.) 'treasure; something rare and of great value'
Käteng oe hu eylan Perlinmì a mrrtrr lu tsyeym a ke tsun tswiva' kawkrr.Tìng mikyun
'The (5-day) week I spent with my friends in Berlin is a treasure that I'll never forget.'
The "double-dative" construction
As you know, to say 'I sent my brother a message,' you put the direct object of 'send,' i.e. the thing you sent (in this case, a message) in the objective or accusative case (the "t-case"), and the indirect object, i.e. the person to whom the message was sent,  in the dative case (the "ru-case"). And of course you use the agentive case for 'I':
Oel 'upxaret tsmukanur oeyä fpole'.Tìng mikyun
'I sent my brother a message.'
But what if it's 'I wrote my brother a message'?
'Write,' as you know, is a si-construction, which has a different syntax: 'I' is in the subjective case, which is used with intransitive subjects, and the direct object in English becomes a dative in Na'vi. (I like to think of it as: 'I do writing to a message.' That's terrible English but good Na'vi.) But what about 'my brother'? Is that in the dative case too? Yes, it is:
Oe 'upxareru tsmukanur oeyä pamrel soli.Tìng mikyun
'I wrote my brother a message.'
We call this a "double-dative" construction for the obvious reason.
The question that immediately comes up is this: given the two datives, one representing the direct object of 'write' and one the indirect object, will there ever be confusion as to which is which? Fortunately, this doesn't happen. One of the datives is in the class of things that can be written (messages, notes, blog posts, books, etc.) and the other in the class of things that can be written to—basically, people. The two classes don't overlap, so there's no ambiguity.
Of course, writing was only introduced on Pandora with the advent of the Sawtute, so you might think that this construction was introduced at that time as well. But in fact it was already in place in the language. Consider law si, for example, which means 'to make clear':
Ralur law soli fo oeru.Tìng mikyun
'They made the meaning clear to me.'
As with pamrel si, there's no danger of ambiguity here. The other possible interpretation, 'They made me clear to the meaning,' makes no sense.
You may also recall Jake's line from Avatar, which also has two datives:
Ma Eytukan, lu oeru aylì'u frapor.Tìng mikyun
'Eytukan, I have something to say (to everyone).'
In this case, the word order allows you to interpret the sentence correctly. ('Everyone has something to say to me' would be Lu frapor aylì'u oeru.)
And now for the promised pictures.
Berlin welcoming committee at the train station: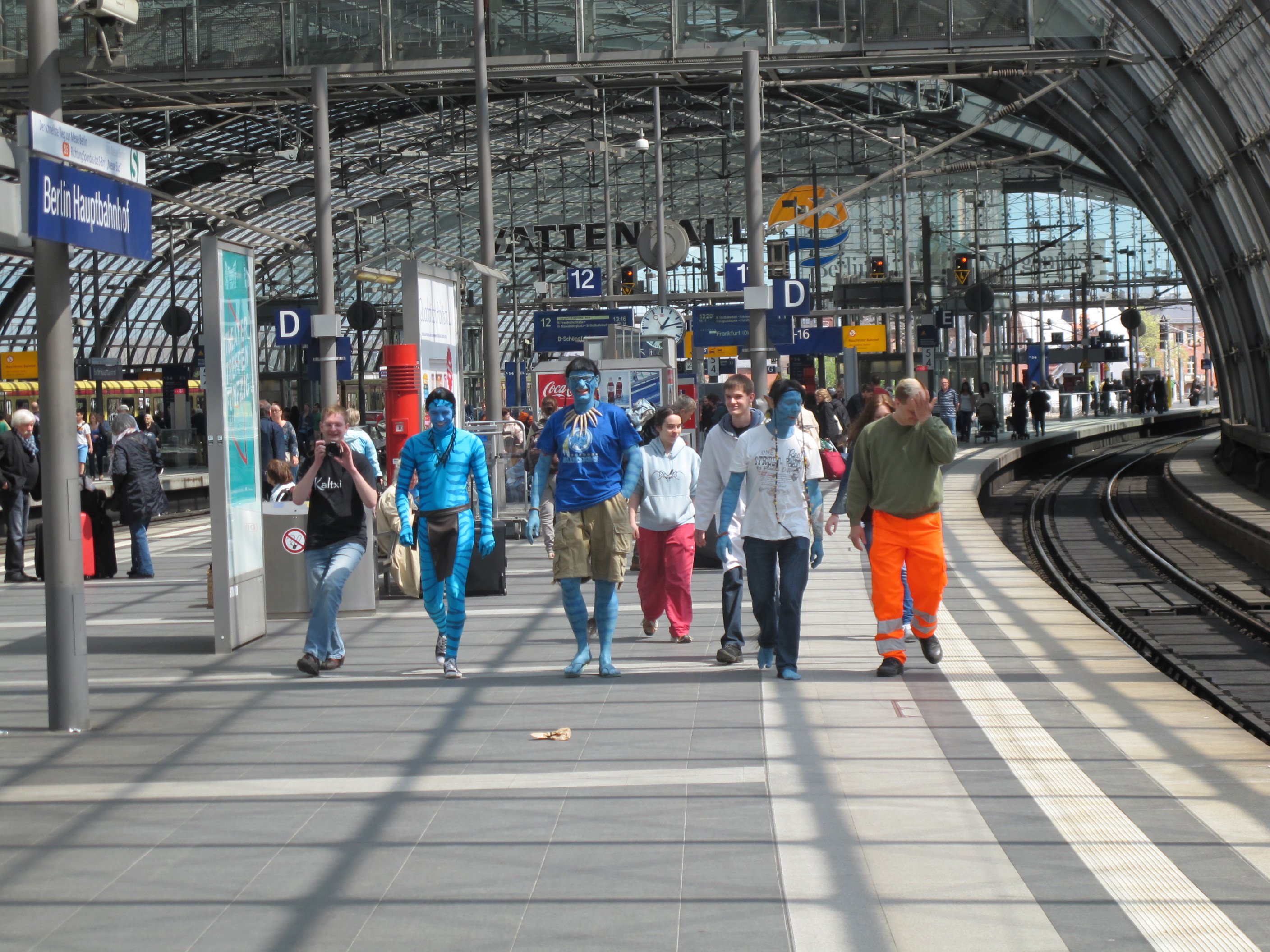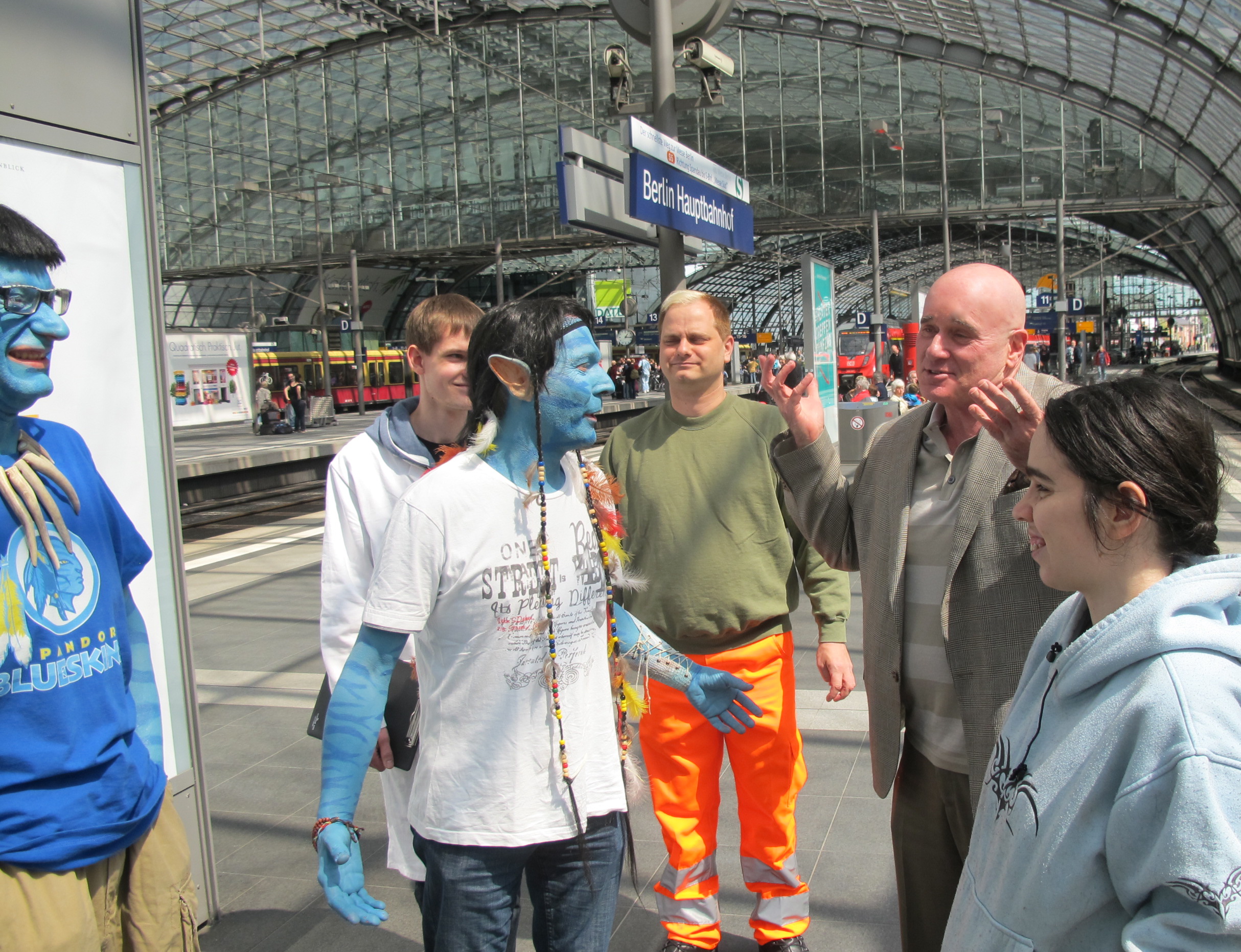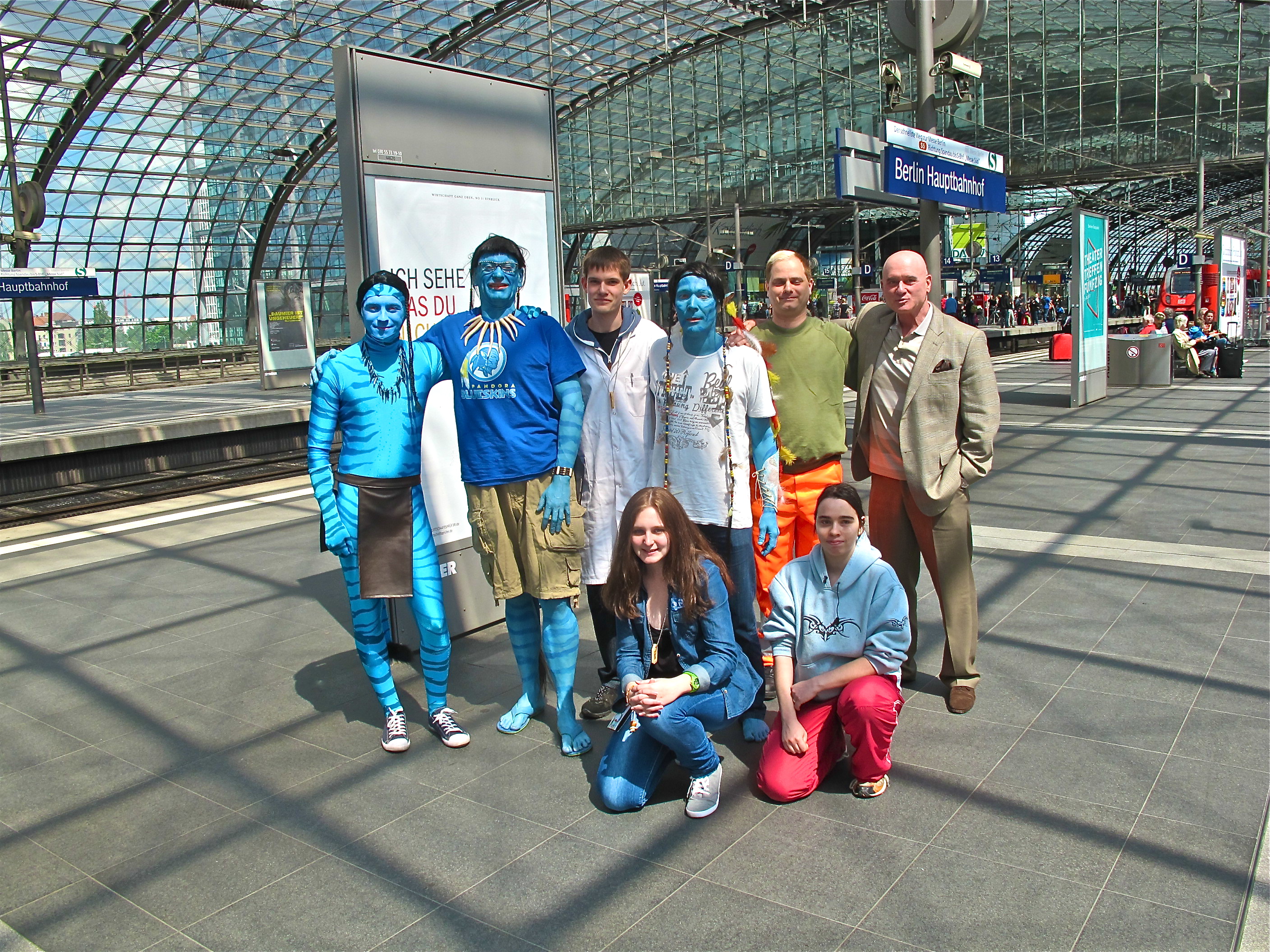 At camp, we were welcomed by a genuine brass band!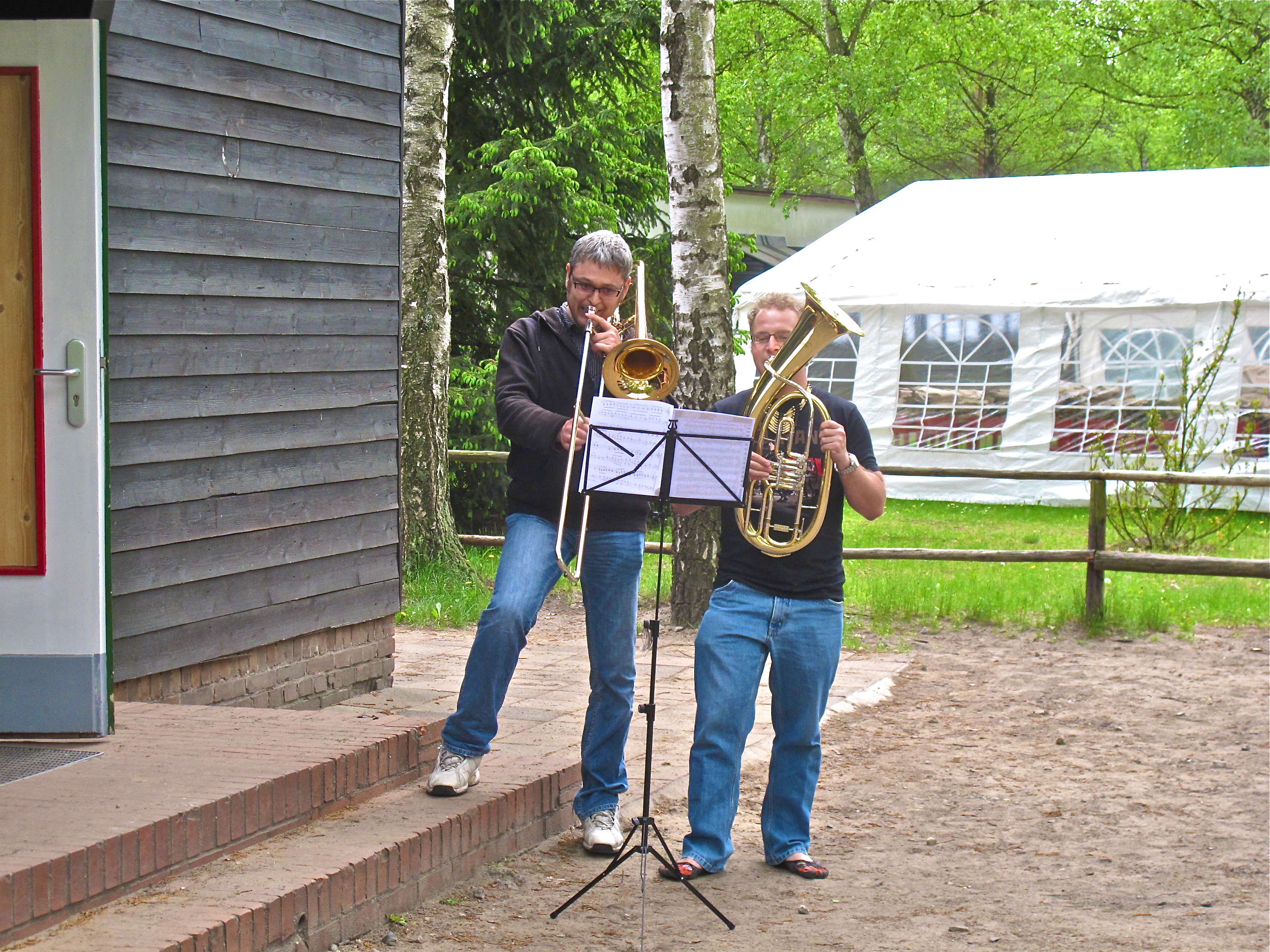 The birthday boy at his party: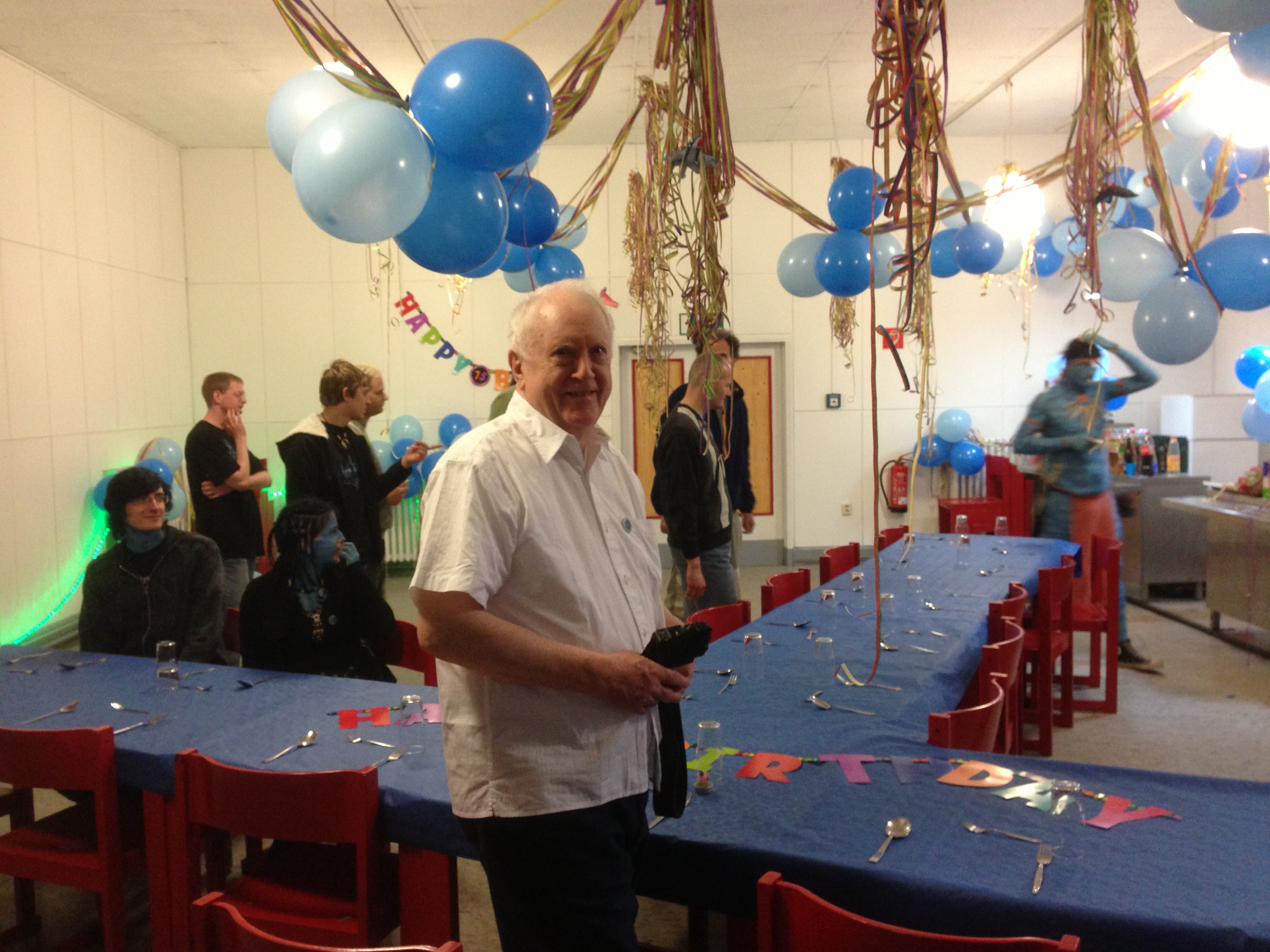 What a beautiful cake!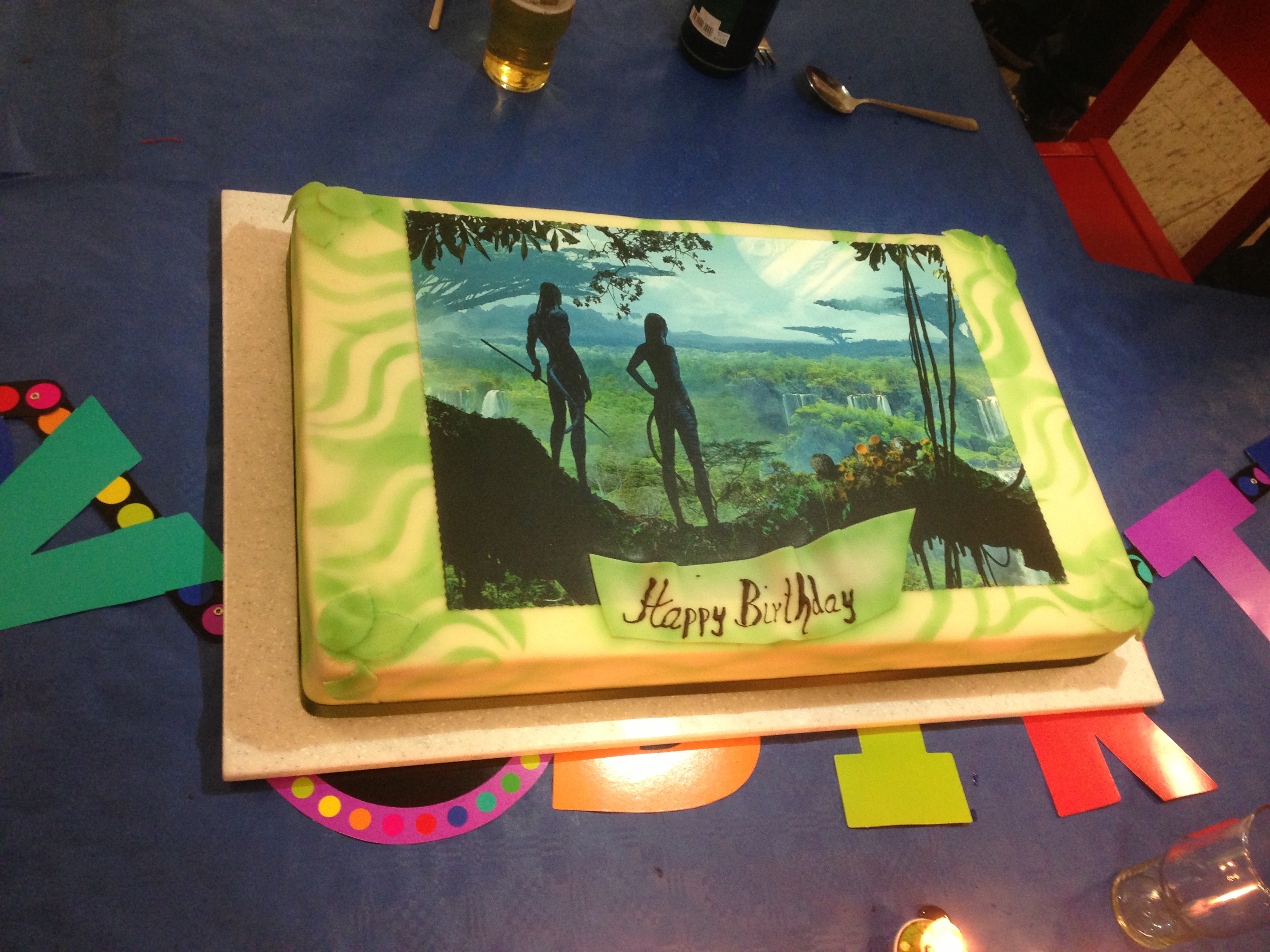 We had some wonderful singers and musicians in our group: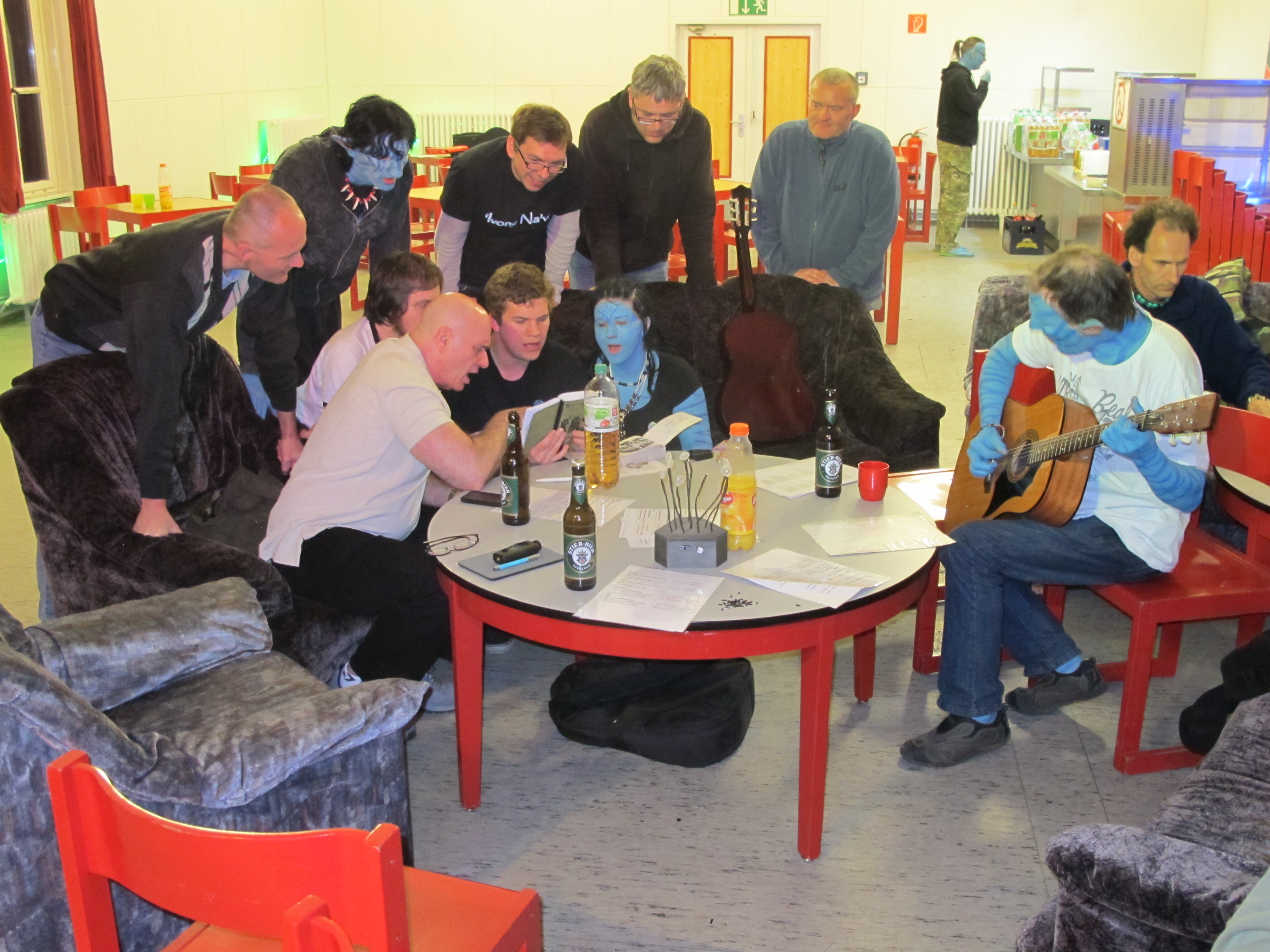 Formal group portrait: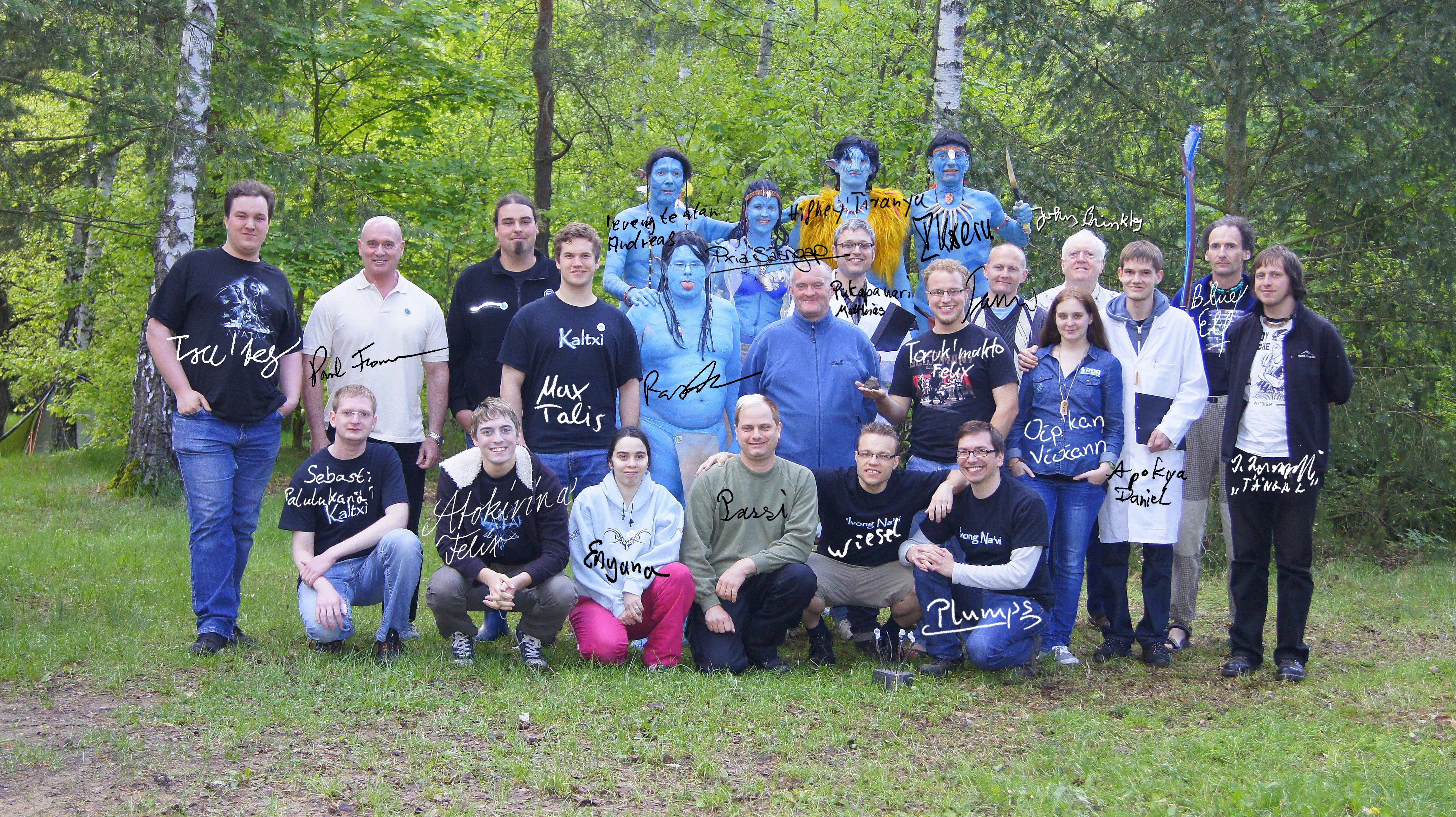 The Paris contingent!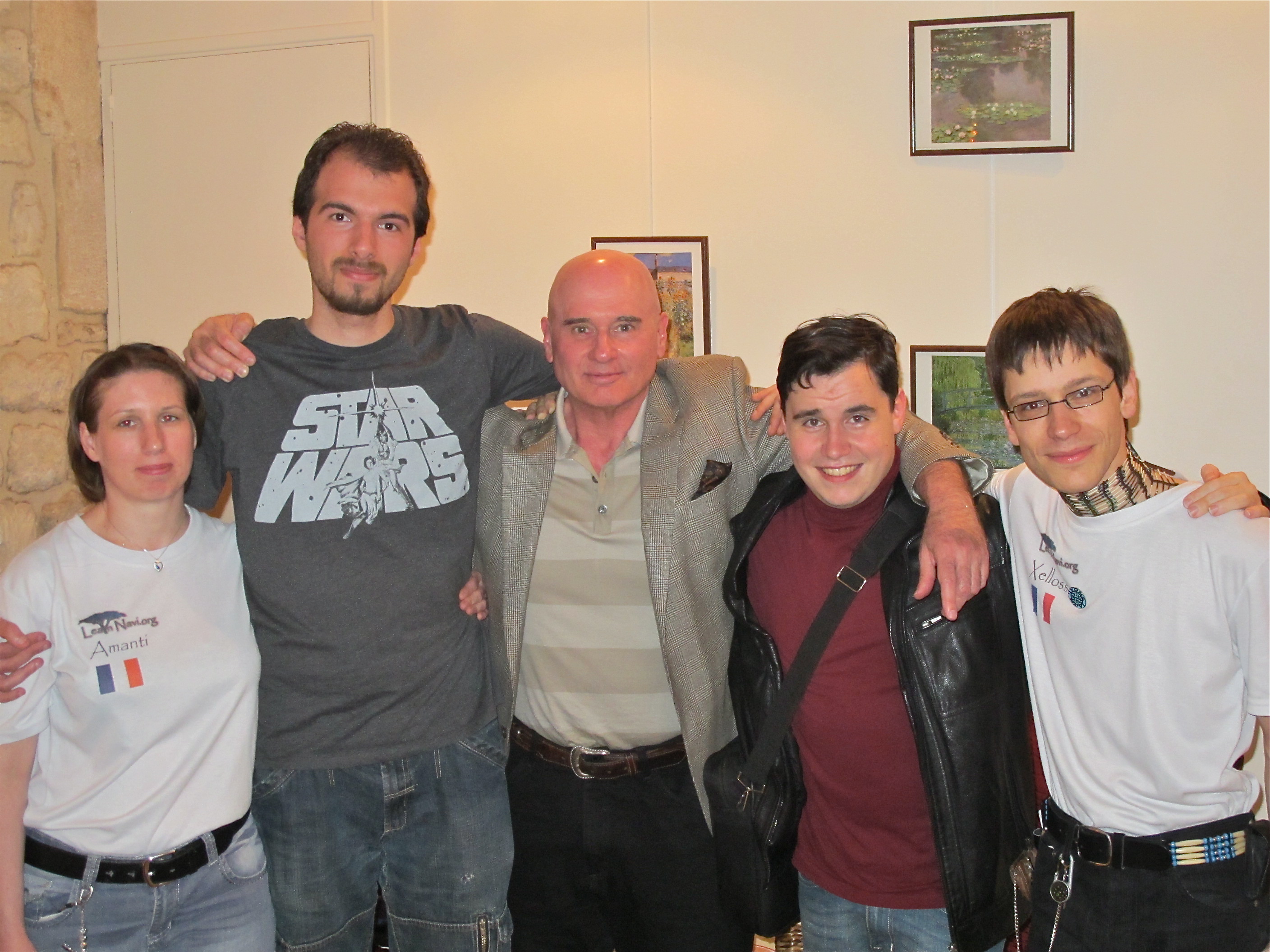 Looking ahead:
Excitement is building for the U.S. Avatar Meet-up in the Washington, DC area (more precisely, at Shenandoah National Park in Virginia).
I'll be teaching a Na'vi 102 class and an informal 101 refresher as well. John will be there too. We're really looking forward to reconnecting with old friends and meeting new ones. Txo tsivun, rutxe ziva'u!
By the way, as I'm putting together the 102 class, if you have any ideas about content—anything in particular you'd like to hear about or practice that would suitable for a 102-level class, please let me know, either here or privately.
Vospìayvay, ma smuk.